I found this site called VG Chartz. It's a nifty little site that lets you track (very approximate) meta-data about games and gaming hardware.
I was bumming around the site and found a bunch of interesting statistics pertaining to this next generation that kind of went against my normal perceptions of things. Here's a bunch of stuff I found out:
PS3 is doing better than I thought
They have a neat little feature that lets you chart any three consoles while normalizing their start dates.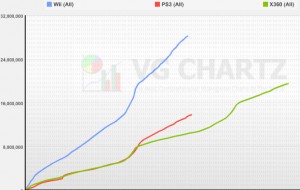 Here's the three current-gen consoles sales normalized by start date. You can see the PS3 is selling stronger than the 360 was at this time last year (and has been doing well comparatively since the beginning). The question is going to be: Can it make up for the year gap. If it keeps going on the track it's going, it could very well do it. And the Wii is kicking LARGE quantities of ass, as everyone knows.
Wii Software Sales Aren't That Bad…
After 1 year and change. the Wii has 25 games that have sold over 1 million copies.
In the same amount of time, the PS3 has 15 games that have sold over 1 million.
After 2 years and change, the 360 has 41 games that have sold over 1 million.
The Wii's on track to have as many 1 million sellers as the 360 by the same time next year
But…
The worrying thing is that the Wii has 10 million more units out than the 360. Also, 13 of those 25 titles are Nintendo first party titles. In the Top 10, there's only 1 game (guitar hero) on the wii that isn't published by Nintendo.
Now you can chalk that up to the fact that most 3rd party publishers were completely unprepared for how well the Wii did, but still… man…
Why people aren't making PS3 exclusives
Seems like right now is a bad time to be making PS3 games as a 3rd party. Only 9 3rd party games have sold over 1 million units on the PS3. Most of those have multiple SKUs, though.
I guess that explains why so few 3rd parties make PS3 exclusives.
More Wii Miscellany
Of the Wii games that sold more than 1 million:
First party games averaged sales of 5.97 million units
Third party games averaged sales of 1.82 million units
All in all
I don't think you can put too much stock in those numbers yet (still too early) but hopefully the Wii 3rd party numbers'll keep getting better as more publishers stop shoveling bad games on and start making good IP specifically for the console.
Anyway, I found it all interesting. Play with the site for a while. It's cool.
Though it's rating score aggregates are really bad, so don't trust those.