I've been playing a lot of Blizzard's new digital-only collectible card game Hearthstone, and I really like a lot of the decisions they made. There are a few things I really miss from
playing Magic: The Gathering, though — and I'd love to give the following "merger" of the two a try some time:
Magic: The Warcraftening
Rules:As Magic: The Gathering, except:
Deck Construction
Choose and use a Commander using the "Commander" rules.
Decks may only be constructed using card colors in the casting cost of the Commander. (Artifacts and other colorless-cost cards may always be used).
Decks are constructed of 30 cards.
In a Deck may not have more than 2 copies of any card you could previously have had 4 copies of.
You may not put basic land cards in a deck.
Set-Up
The hand limit is 10 instead of 7.
Draw 3 cards to start instead of 7.
Players each have 30 health.
Mulligan rules per Hearthstone.
The player who goes second gets one extra card to start, and the "mana stone" card. [0 Casting cost – Add one mana of any color to your mana pool].
Just represent this by giving the player a proxy or using some other card (like a novelty oversized or advert card).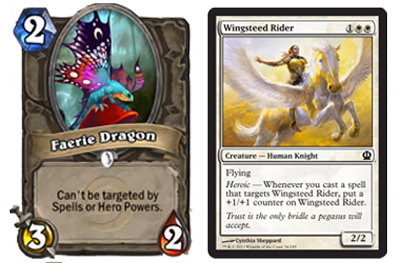 Miscellany
During your draw phase, if you can't draw a card take 3 damage (instead of just losing).
If you play a (non-basic) land card, it comes into play tapped. If it already would have come into play tapped, put a "fuckyoumunchkin" counter on it that you remove during upkeep. It does not untap during the untap phase while this counter is on it.
Mana is gained as in Hearthsone: Each turn the player is given N mana to spend total (max 10), where N is the number of turns that have passed so far.

Track this by putting an upside-down basic land card into play every draw phase, along with doing your normal draw.
This mana may be used to cast spells of any color — it is of the type "Ultraviolet Mana."
The cards are not permanents and not land. They're just for tracking purposes.
I haven't tested this — I just rattled it off the top of my head. But if anyone plays it, let me know how it goes.